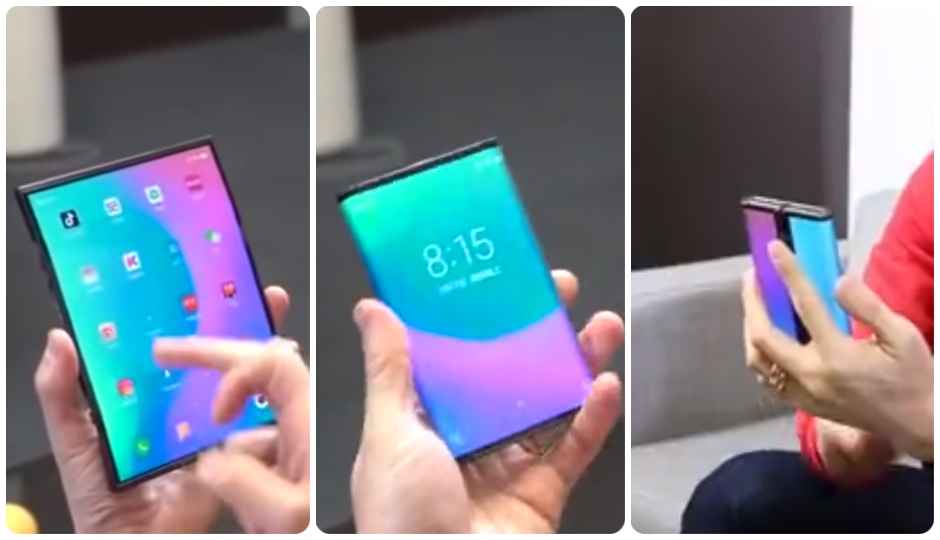 Highlights:
Xiaomi shows off its foldable phone in a new video.
The phone does not fold completely in half but with two creases or bends. 
The foldable device is said to be an engineering model.
Xiaomi was speculated to be working on a foldable smartphone and the company's co-founder Lin Bin has now shown off the rumoured device. In a video uploaded on Weibo, Bin shows off the workings of the foldable phone and how it might work. Do note that it's still early to comment on whether the device would work similarly when it will be announced, since the one shown in the video could be a prototype. A previously leaked video of a foldable phone that was speculated to be made by Xiaomi is also quite similar to the new one.
The video starts off with the phone being held in what we guess is the portrait position and the aspect ratio seems to be 3:2. The last video that we talked about started off with the phone being held in landscape position where it sports a 4:3 display aspect ratio. So, we guess there could be no orientation lock on the device or it is yet to be finalised. The new video shows the phone being folded but not like we have seen on the Royole FlexPai or Samsung's foldable Galaxy Phone as it doesn't completely fold in half. Xiaomi's phone folds backwards with two creases to fit into the palm of one's hand and the power button is on the top but considering the orientation might not be fixed yet, there is no way of telling if it's the top or the bottom or the side.
As per Bin, the unit showed off in the video is an engineering unit. His post on Weibo reads,"Xiaomi double folding mobile phone is coming! After conquering a series of technical problems such as flexible folding screen technology, four-wheel drive folding shaft technology, flexible cover technology, and MIUI adaptation, we made the first folding screen mobile phone, which should be the world's first double folding mobile phone. . This symmetrical double-folded form perfectly combines the experience of the tablet and mobile phone, which is both practical and beautiful. Although it is still an engineering machine, it is sent out for everyone to see." We see Lin navigating within an app and folding the phone in the process. The device adapts to the new folded display pretty swiftly and the company must have worked hard to make this possible. Additionally, after the display is folded, sides of the display on the back are still active.
Alongside Xiaomi, there are many other smartphone manufacturers like Samsung, LG, Lenovo and Huawei that are working on their own versions of a foldable or bendable device. Samsung might also show off its foldable phone at the upcoming Unpacked event where it will announce the Galaxy S10 series of smartphones.